Share the Point: The war for the Slate Space
Keeping on the the "war for the slate", which I have been blogging about for some time. Microsoft dropped another bombshell saying it would not pursue development of its project Courier:
According to reports from Microsoft employees, the mysterious and
innovative Microsoft "Courier" tablet, which would have been a rival to the
iPad, is not to be


http://www.huffingtonpost.com/2010/04/29/microsoft-courier-cancele_n_557493.html
Its hard to underplay just how bad this is for Microsoft. In my opinion it is down right stupid and could only come from Microsoft inability to get the core technology working. With the triumph of the iPhone and iPad it is possible that Mac quality and coolness could be presented in gadgets most people still can afford. This is what happen with the iPod, the device was still cheap enough that one could afford Mac quality. The danger here for Microsoft is that it could just become a Office based solution. Certainly SharePoint and its new Cloud offering will insure that Microsoft position will last for some time, but without consumer usage there is a danger Microsoft core could drift and even fade out over time.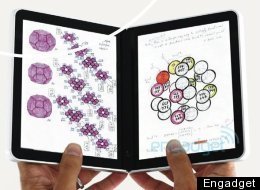 Courier will not be